Thinking About Organizing Your Closet?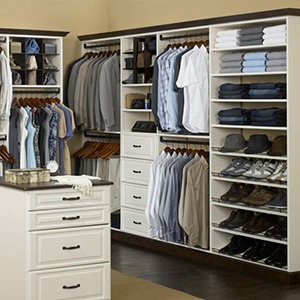 Are you frustrated because you can't find what you need in your untidy closet? Is your current closet cluttered with clothes and shoes piled on the floor? A neat, organized closet is a boost for your everyday productivity and your mental well-being.
Don't know where to begin? Get started today with these tips:
Hidden Hamper – If you are installing new shelving in your walk-in closet, consider this idea. Add a built-in hamper to keep your closet floor free from clothes and other items.
Vertical Space – After your closet shelving system has been installed, use extra vertical space to add hooks for scarves, belts and handbags.
Shoe Shelf – When remodeling your closet, consider adding shoe shelves to keep your shoe collection off the floor.
Nooks and Crannies – Fill any open shelves with labeled storage bins or baskets and smaller containers for organizing jewelry or other small items.
Shower Hooks – Hang your handbags in your closet with shower hooks which fit perfectly over your clothes rod.
Top Space – Use all your closet with space by storing less-used items in labeled bins on your top shelves.
Categories – Organize your clothing by category instead of color to save time when pulling together your outfit for the day.
Label, Label, Label – Use labels to help your closet stay organized.
The professionals at Closets and Shower Doors by Toler Insulating in Lynchburg, VA can design a closet storage solution to meet your needs. Contact us today for an estimate.